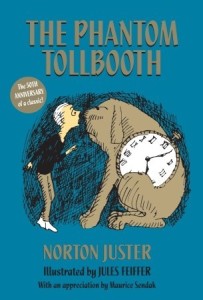 Milo is an utterly unexcitable little boy. When he's at home he wants to be at school; but when he's at school he wants to be at home. He doesn't see the value of learning facts he'll never need, and neither book nor toy interests him.
But when he arrives home after another boring day at school, he's surprised to discover a tollbooth in his room. Included with the tollbooth is a beautifully illustrated map showing all the places to which it leads; Milo has never heard of any of them, but—for lack of anything better to do—picks a destination, hops into his toy car, and goes through the tollbooth — into the first adventure of his life.
A classic for all ages
I have dim recollections of trying to read Norton Juster's novel at some point in elementary school and not enjoying it, probably because it was just a little over my head.
It wasn't this time around, however, and so I found The Phantom Tollbooth to be funny, enlightening, and just a little scary.
As a bookworm of epic proportions, I feel sorry for Milo at the beginning of the tale. Imagine, not being interested in books or toys or adventures or learning! He's a kid in a 40 year-old cynic's body, and it's not pleasant.
Fortunately the tollbooth arrives just in time, and Milo finds himself in strange places like The Doldrums and Dictionopolis, meeting and making friends with creatures such as the Humbug and a Watch Dog named Tock. Soon they are off to rescue the princesses Rhyme and Reason — a journey that teaches Milo the value of learning, knowledge, and believing in the impossible.
Puns and other wordplay abound, making the book fun for adults and children.
The tollbooth, and the wonderful lands beyond, remind the reader that there is always something new to see and accomplish. The Phantom Tollbooth is a tribute to learning, knowledge, and the adventures that lie just around the next bend in the road.
The audiobook
This was my second audiobook of the year — I'm on a roll!
The Phantom Tollbooth was narrated by Norman Dietz, a professional storyteller since 1962. He did a great job, although there were so many characters that eventually he had to start kind of recycling voices. Otherwise, well done and highly recommended!