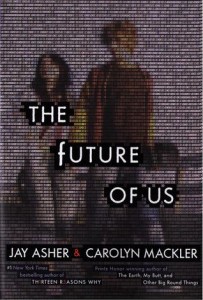 It's 1996, and Emma has just gotten her first computer, as well as an America Online CD-ROM — a loaner from her neighbor and friend-since-childhood Josh. The two haven't spent much time together recently, not since a misunderstanding a few months before. So Josh's willingness to lend the CD-ROM feels a bit like a peace offering.
Until Emma loads it up and connects to the Internet. The first website that pops up is something called "Facebook," and it's nothing like anything Emma's ever seen. At first she thinks it's Josh playing a joke, but he's as perplexed as she is.
Facebook is something from the future — 15 years, to be exact. And Emma doesn't like what she sees. Has she been given the opportunity to change her future, or is she doomed to be unhappy forever?
Nicely crafted
The Future of Us is the result of a collaborative effort by famous YA authors Jay Asher (Thirteen Reasons Why) and Carolyn Mackler (The Earth, My Butt, and Other Big Round Things), and it is awesome.
The characters are well-written and believable — as is the novel's premise, though you wouldn't think it. I was immediately hooked, wondering what Emma and Josh would discover about themselves, and if the futures predicted in their Facebook profiles would come true.
I love character-driven books, and this is definitely one of those. I liked how the chapters switched between Emma and Josh's point of view, giving me different perspectives on the same situations. It was interesting to see the decisions they made, and how they reacted to knowing their futures.
Also, mind blown
Do something for me real quick: log onto Facebook and check out your profile as if you were seeing it from the past. Makes you see your posts and shares from a totally different perspective, right? I hope I'm not the only one this freaks out a little.
Can you imagine running across your future self on Facebook? Like Emma, I'd want to find some indicator that my future self is happy, and would be hard-pressed to avoid trying to change the future if I weren't. Or should that say "if I'm not"? Thinking about this makes my head hurt.
Bottom line, check out The Future of Us. I think you'll like it.
If you could see your future, would you want to know it?