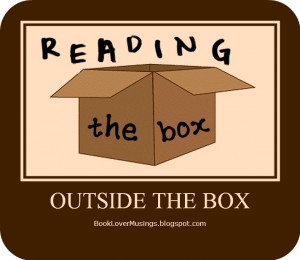 (I read this book as part of the Reading Out of the Box Challenge. This book was in the To the Screen category, in which I read a book that's been adapted into a film.)
The Descendants is told from the perspective of Matthew King, a lawyer in Hawaii who is trying to keep himself and his family together while his wife Joanie lies in a coma and his family discusses selling the land that's been theirs for generations.
The couple's oldest daughter, Alex, is a former drug abuser and all-around wild teen who hasn't spoken to her mother in months due to an argument that neither of them wanted to talk about; younger daughter Scottie is in the throes of puberty and not handling her mother's illness well.
Matt is barely keeping it together when he learns that his wife was having an affair. Joanie is dying, and Matt knows it's up to him to bring everyone who cares for her—including her lover—together to say their goodbyes.
Kaui Hart Hemmings' novel tells the story of one man trying to do what's best for his wife while also pulling together the shreds of his family. Can he and Alex and Scottie truly be okay without Joan?
Challenging and wonderful
This novel surprised me with it honesty and harshness. The paradise-like islands that are Hawaii juxtapose grossly with Joanie's hospital room and slow death, Matt's anger at her and her lover, and Alex and Scottie's tumultuous behavior.
The Descendants is incredibly character-based, which of course means I loved it. Hemmings manages to keep all her characters in the gray area between right and wrong, victim and perpetrator, normalcy and insanity. Who is responsible for Matt and Joanie's failing marriage? Why does Alex seem to hate her mother? Why is Scottie acting out? Is it right for Matt to bring his girls along on the quest to confront Joanie's lover?
It was interesting to see how each character handled the situation, and how each managed to grow individually — Matt in particular. He's never particularly connected with his daughters before and feels lost, at one point noticing Scottie's matted hair and realizing he doesn't know where she gets her haircuts, or if she's ever even had one. I liked seeing him go from the stereotypical unknowing buffoon of a husband into a father who fights hard to care for his kids and his wife.
I haven't seen the film adaptation (and probably won't, because it's never as good as the book), but it got rave reviews when it came out in 2011. Give it a read or a watch — I'd love to know what you think.