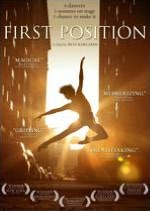 Every year thousands of dancers gather to compete at the Youth America Grand Prix, the world's largest ballet competition; kids from 8-19 years old compete for medals, scholarships, and contracts with the world's best dance companies.
First Position follows six dancers from different countries as they prepare for the semi-finals and finals. Every dancer is talented, but only the best can win.
Dedication
I danced just enough in elementary and middle school to learn that ballet is an incredibly difficult, competitive, and risky career path.
The kids in this documentary are stressed, and for good reason. Hours of practice take away from "normal" childhoods, and they push their bodies to their physical limit, often resulting in pain and injury. There's also incredible pressure to make something of themselves so that their parents' time and money (lots of it — think $2500 per tutu) will not have been in vain.
Passion
The dancing was superb of course, but what I most enjoyed was learning about the kids themselves.
Michaela – Adopted from Africa, has always wanted to be a dancer like the one she saw on the cover of a magazine.
Joan – A native of Columbia who loves dance, and knows it's his only chance to have a good life.
Mika – A girl who thinks she's had just enough childhood and just enough ballet, and loves ballet just a little more.
Jules – Younger brother to Mika, who enjoys ballet but seems to be pressured into competing by his quintessential "stage" mom.
Aran – A darling boy who may or may not have a little crush on his ballet dancer friend Gaya.
Rebecca – Nicknamed "Barbie" because of her flexibility, long blonde hair, and obsession with pink.
These personal perspectives ratchet up the tension considerably, giving us people to root for — I know I held my breath every time one of them went onstage.
My favorites were undoubtedly Gaya (who isn't a main focus, but is good friends with Aran), Joan, and Mika.
I rooted for Joan because so much depended on his being successful. He knows there's nothing for him in Columbia, and that his best chance of having a successful life is to become a part of a dance company.
Gaya and Mika tugged at my heartstrings, not only because they're so young, but because they're so passionate: they absolutely love ballet. They also lack much of the cynicism of the older dancers, who are more worried about finding jobs than the younger ones.
Gaya in particular made me smile. She practically climbed the walls before every performance, and put so much of herself into each dance that I couldn't help but fall in love and wish her well.
Hope and heartbreak
I desperately wanted everyone to win, and it was sad to see those moments when someone didn't.
But it was also uplifting when someone did well, and those moments far outnumbered the sad ones. All the kids have such dedication that I have no doubt of their success.
I watched First Position as part of Non-fiction November. Click the image to see posts from this and previous years!