(Saturday Snapshot is brought to you by At Home With Books. Join us!)
I come from a family of collectors. Different family members collect different things, but there's one thing both sides love: Depression glass. As the name suggests, this glass was made and distributed during the Great Depression — often as a "freebie" for purchasing certain products. It's not high-quality stuff, but it's been collectible since the 1960s.
The glass comes in a range of colors (everything from clear to amber to cobalt blue and ruby red) and patterns. My paternal grandmother has several sets of the green, and between them my maternal grandmother and uncle have several sets each of green, amber, pink, and clear.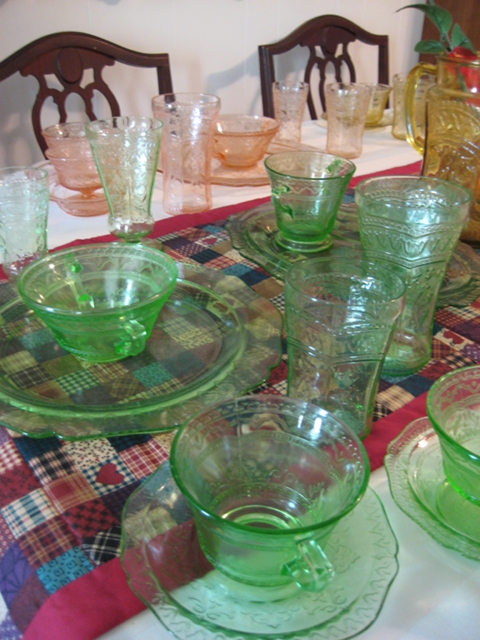 Close-up of the pink: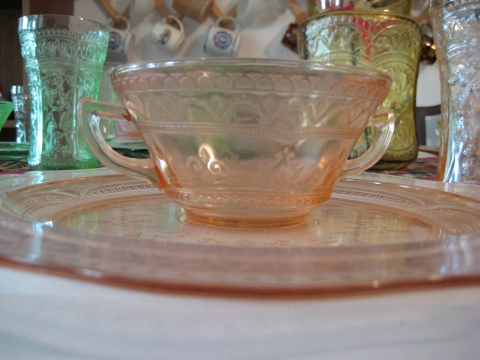 Some of my favorite memories involve eating off these dishes at Easters, Thanksgivings, and Christmases. I didn't know until a few months ago that there were colors other than these; but my dad has really gotten into collecting as well, and has several of the cobalt blue pieces which are very striking. I don't have a photo of his pitcher, but this is what it looks like: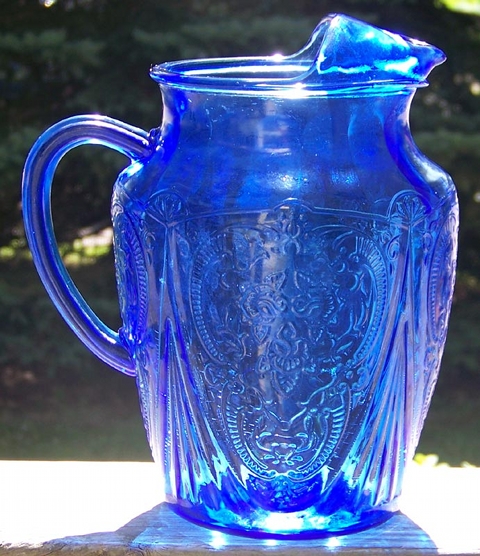 Depending on its rarity, a single piece of Depression glass can sell for hundreds of dollars. My grandmother(s) are fond of informing (perhaps threatening?) me that some of it will be willed to me; I look forward to hosting my own holiday meals with them.