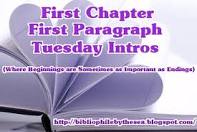 (First Chapter, First Paragraph is hosted by Bibliophile By the Sea. Every Tuesday we share the first paragraph or two of a book we're reading or thinking about reading soon. Care to join us?)
I don't read a lot of non-fiction, but when I do I always go for the good stuff — in this case, Mark Stevens' Broadmoor Revealed: Victorian Crime and the Lunatic Asylum.
On 27 May 1863, three horse-drawn coaches pulled up at the gates of a recently-built national institution, set amongst the tall, dense pines of Windsor Forest. Inside the coaches were eight women and their escorts from Bethlem Hospital in London, the ancient hospital for the treatment of the insane. That morning the little party had left the Bethlem buildings in Southwark, boarded a train at Waterloo Station, then travelled by steam through the capital's suburbs and out to the little market town of Wokingham in Berkshire. Their destination was Broadmoor, England's first criminal lunatic asylum.
The history of the treatment of the mentally insane is a long one, and Broadmoor Revealed looks to be a good — if incomplete — description of Broadmoor in the Victorian age.
I'm only a couple chapters in at this point, but it looks like the author has dedicated about half the book Broadmoor's female patients (famous and not), as well as the children born inside the institution. I think this one will keep me interested to the end.
Would you keep reading?