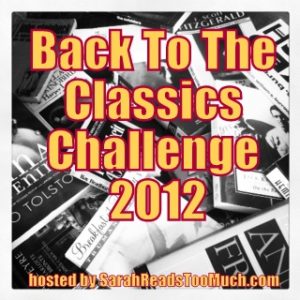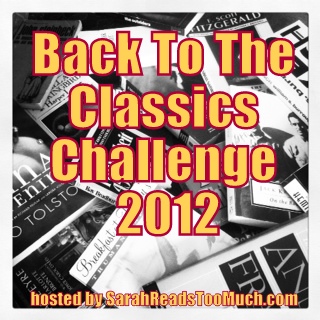 (I read this book as part of the Back to the Classics Challenge. Click on the link or image to join in the fun!)
Charlotte Brontë's classic novel Jane Eyre centers around a young woman of the same name who, orphaned at an early age and sent to live at a boarding school, finds both love and heartache at Thornfield Hall, where she accepts a job as a governess to a little girl.
Jane's time at Thornfield is happy, but filled with uncertainty. She meets Mr. Rochester, Thornfield's owner, and soon finds herself in love. But can the brooding, mercurial man love her in return, and what secrets roam the halls of Thornfield?
Spoiler alert!
I first read Jane Eyre my senior year of high school, and loved it instantly. It was my first real brush with gothic literature, and I devoured the story.
Jane is an interesting character: self-deprecating, unaware of her value and intelligence, honest, and unwavering. Her childhood is a harsh one, and she takes the lessons she learns very much to heart, using them to train herself to be a better person; but she's passionate and willful, and can't always mask her true feelings behind society's rules and norms.
Mr. Rochester is also a puzzle. He is tortured and trapped by his past sins and mistakes, and tries his best to atone for them (keeping his wife at Thornfield instead of putting her in an asylum, for example). But he's also impatient, imperious, demanding, and wants what he wants — damn the consequences and feelings of others.
Every time I revisit Brontë's novel, I tackle yet again the ending. Jane's refusal to be Rochester's mistress and subsequent decision to leave Thornfield after discovering Bertha, I completely understand. Her return, however, still leaves me wondering.
Jane comes back to Thornfield after hearing Rochester's voice calling her name across the moors (classic gothic), only learning upon her return of Bertha Rochester's death. Does Jane's love for him overcome the morals to which she has been clinging? How is she—and the reader—to take this sudden about-face?
Jane Eyre is about a woman who follows her heart and takes control of her destiny. It's a novel full of flawed characters, all trying to live their lives as best as they know how. It's also a story of love between two people that outlasts all the mistakes each person makes, and grows to become a truely happy partnership.
Challenge credit
Jane Eyre was published in 1847, making it a 19th century classic. And since I've read it every year or so since I was 17, it counts as my "re-read" for this challenge.