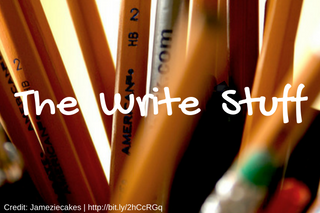 Have you ever done something that scared you, and you didn't die and it was actually kind of fun, but then you got cocky and bit off more than you could chew? Welcome to my world.
After my marginal success with writing prompts last year, I decided it was time to get back into creative writing. I was a theatre major, after all, and wrote a healthy number of scripts and short stories. I fell off the fiction-writing wagon after college, and it's something I want to jump back into.
The only problem? It's hard as shit.
Fiction writing is so much harder than writing about the books I read. I'm stretching muscles I haven't used in eight years, and it's brutal.
My goals
I need some, or this whole thing is going to collapse like a poorly-made souffle.
Goal 1: Finish four short stories in 2017.
Goal 2: Do as many of the 642 Tiny Things to Write About as I can.
Goal 3: Join a writing community (and actually share stuff for feedback).
Goal 4: Document it all on this blog.
Got any advice?
I'm hoping things get easier as I go, but I'd love any advice from readers who are also writers. What's your ideation/writing process? How do you stay focused when writing? How do you ignore the little voice in your head that says everything you write is terrible?
Oh…that last one's just me? Awesome. How could this end badly?