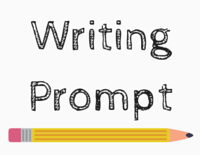 (This month's writing prompt is Greeting: Write a story or poem that starts with the word "Hello.")
Hello, little one — little gnome, baby-that-could-be.
I used to dream about you. We went on walks, you asked a thousand questions, and I explained to you that of course Santa is real because magic is real, and Santa is magic.
We've talked about how we would raise you (minimal screen time, play outside, no social media accounts before you're 13), and what you might be like (tall, smart, obsessed with stories).
We've worried about you, too. What if you inherit my anxiety disorder, his food issues? What if we decide we're ready, but can't seem to get you here? What if we decide we're not ready, and you make an appearance anyway? What if there's something wrong with you, or I die getting you here?
I'm afraid of you. You would change everything, make everything about this world scarier. Not only do I not know how to deal with colic and teething, I can't imagine how I would help you understand and deal with bullying, terrorism, and the fear and hatred that seems to be everywhere these days.
Given the choice myself, I'd choose to be born. This world is sometimes frightening, but so much about it is worth experiencing: books, road trips, french fries, love. Would you choose life for yourself, given the opportunity? If you're anything like me, I bet you would.
Am I selfish for not letting you exist? Some people think so. But there's a difference between giving you life and giving you a good life, and I don't think I'm able to give you the latter.
Even though you will probably never exist, I miss you. I miss the million possible versions of you (even the one that hates reading). I hope that if your soul exists somewhere, it understands and accepts my choice.
Always,
Mommy-that-could-be