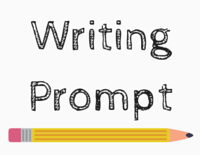 (This month's writing prompt is A Day in the Life: Write about your daily habits and routine.)
4:30am: Awakened by racing thoughts. I need to… Did I remember to… I should… What if I… What if they… You forgot to… Remind so-and-so to… Email myself about… Did I make… Should I listen… Should I say… I wonder if…
5:00am: Get up and move to living room. Lay on couch counting my breaths, trying to force my brain off the hamster wheel.
5:40am: Finally fall back asleep.
7:00am: Alarm goes off. Been using The Rock Clock, which helps me wake up on time and gives me a little dose of positivity and motivation.
7:00am – 7:20am: Check email, social media, and daily web comics.
7:20am – 7:25am: Snuggle with husband in bed, fight urge to go back to sleep.
7:25am – 8:00am: Shower, get dressed, annoy husband until he gets out of bed.
8:00am – 8:30am: Eat breakfast (crackers and peanut butter, cup of apple juice). Sneak in a few pages of whatever I'm currently reading.
8:30am – 8:35am: Make bed, grab lunch from fridge, head out.
8:35am – 9:00am: Get into work and settle at desk. Check emails, priorities/to-dos for the day.
9:00am – 9:10am: Use the Stop, Breathe & Think app to ease anxiety symptoms and try to get into a focused mindset.
9:10am – 1:00pm: Do good work. Wonder half a dozen times whether an email I'm sending is clear, or if the silence in team chat after I type something is natural or a sign that I've said something annoying or boring or offensive. Reaching out to husband on Skype chat a couple times, relying on him to be a touchstone of calmness.
1:00pm – 2:00pm: Eat lunch alone in quietest spot I can find. Equal parts eating, reading, skimming social media, and wondering whether or not I should be eating in one of the common rooms and talking to people. Maybe I should try to be more outgoing.
2:00pm – 4:30pm: More work. Listen to music or podcasts.
4:30pm: Realize there's some kind of Happy Hour thing happening in break room. Briefly consider going in to mingle, feel shoulders tense up and stomach roil at the mere thought. Turn up music and try to ignore the noise and finish the day strong.
6:30pm – 8:00pm: Get home, change into pajamas, chores. Cook dinner, do dishes, make tomorrow's lunch.
8:00pm – 10:30pm: Check off home to-do list items (pay bills, write reviews, etc.). General straightening up and prep for next day. Watch some Netflix, waste time on the web.
10:30pm – 10:40pm: Force self to floss and brush teeth. Use baking soda because I grind my teeth so hard in my sleep that some of my enamel is crumbling away and baking soda is less abrasive than toothpaste. Rinse with Listerine, which is somehow still less horrible than the baking soda.
10:40pm – 11:00pm: Read or do crossword puzzles in bed. Start nodding off, put book away and put in mouth guard (to ease the grinding). Try to deep breathe myself to sleep before my brain can get back on the hamster wheel.
It's exercises like this that show me how embedded my anxiety is, as well as the ways I've trained myself to combat those feelings and prosper in spite of them. Some days are better and some are worse, but overall I feel like I'm in a much better place than I was a year ago.