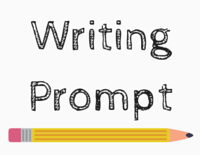 (This month's writing prompt is Suitcase: Write about packing for a trip or unpacking from when you arrive home.)
Sam heaved the ragged blue suitcase onto the bed, wincing as the stitches on his bandaged right hand pulled with the movement. His twice-delayed flight had finally landed in New York an hour ago, and he'd used the last of his energy schlepping up the stairs to his apartment.
Remembering the doctor's instructions to change the bandage before going to bed, Sam sighed and unzipped the suitcase, hoping he could find his toiletry bag quickly.
And there, of course, right on top where he'd shoved it, was his tuxedo shirt, the right cuff and arm still stained red. He wondered vaguely how he was supposed to get the stains out. Bleach should do it, right? Or would that ruin the shirt? Not that it mattered. He'd bought the thing a week ago and didn't plan on wearing it again.
Sam grabbed his toiletry bag and headed to the bathroom. The tiles were freezing under his feet, the cheap florescent lighting emphasizing the dark circles under his eyes. Ignoring the zombie in the mirror, Sam gingerly pulled the bandages from his hand and inspected the stitches on his knuckles. Not a lot of swelling, but his hand was going to hurt like a bitch in the morning.
He hadn't gone into his sister's guest room intending to knock a hole in the wall — he'd never imagined himself as the kind of guy who would do something like that. He'd just been so furious with his dad, whose bad decisions had finally, spectacularly blown up in the family's face.
Reading the will was awkward enough, but learning his apparently "required" responsibility had pushed Sam over the edge, resulting in drywall damage and a visit to the ER.
Teeth brushed and fresh bandage applied, Sam flicked off the bathroom light and went back to his bedroom. He turned on his bedside lamp, moved the suitcase to the floor, and was climbing into bed when he paused and sighed. He turned around and headed down the hallway toward the front of his apartment, returning a minute later carrying a compact silver urn.
He set the urn on the bedside table, climbed under the covers, turned off the light, and sighed into the darkness.
"Goodnight, Dad."