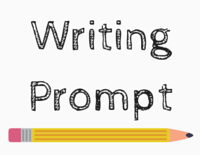 (This month's prompt is Jewelry: Write about a piece of jewelry. Who does it belong to?)
The necklace was cheap, but it was hers. It was the first thing she bought with her first paycheck, the first thing she could truly call her own.
Her father hadn't wanted her to get a job, but she'd been around the block enough times to recognize when an oil boom was about to bust — Pops would be unemployed again by March, so now was the time to start saving.
She was on her way to the bank to deposit that first paycheck when she spotted the necklace in the window of the Woolworth downtown. It mimicked the old-fashioned broaches she had seen in movies, with an ivory-colored carving of a woman in profile on a dark green background. The low price meant it was just a reproduction, and she was walking out with it almost before she realized it.
Now she was home, seated at the little writing desk she and her brother shared for doing homework. She slid the necklace out of the bag, then untied the drawstrings holding its velvet pouch closed. The necklace spilled into her hand, cold from its journey from downtown.
The sun was already setting, so she reached out and flicked on the desk lamp, turning the necklace this way and that in the glow.
The hall clock chimed six, pulling her from her reverie. She pulled the gold chain over her head, feeling the necklace rest gently against her collarbone. It was beautiful, and it was hers.