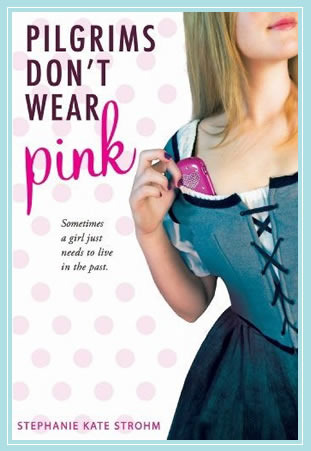 Libby Kelting has just landed a history aficionado's dream job: an internship at Maine's oldest Living History Museum. Adios cell phones and Facebook, hello corsets and baking! Libby knows this is going to be the best summer ever.
Except it's not. Her roommate is a prissy bitch, a local reporter seems determined to get under her skin, and her crush may not be the Prince Charming she hoped for. Oh, and the museum grounds are haunted.
Will Libby's summer be smooth sailing, or will it be a complete shipwreck?
Fun and ridiculous
Pilgrims Don't Wear Pink has all my favorite bookish elements: history, a touch of romance, a certain amount of silliness, and a mystery. How could I not love it?
Libby is a great character. I love that she has a good head on her shoulders, is interested in lots of things, and has a stubborn streak a mile wide.
The setting — a living history museum in a sailing community — gives author Stephanie Kate Strohm a great excuse to share fascinating details about ships, clothing, and cooking. These are some of my favorite parts of the book.
Aside from a plot hole big enough to float a yacht through — who lets two teenagers of the opposite sex live on a boat together? — the book is fun and silly and thoroughly enjoyable. The bad guys are deliciously easy to hate, the good guys are flawed but lovable, and the mystery of what's haunting the museum…well, you'll have to get the book to find out.