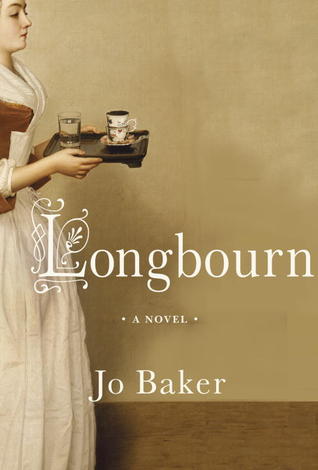 Sarah spends her days washing, cooking, and cleaning for the Bennet family. The work is back-breaking and never ending, and Sarah knows she will be doing it until she dies. The arrival of an eligible bachelor at Netherfield has the gentry in a buzz, but it's the arrival of a new footman that has Longbourn's servants' hall that sends Sarah's life on a new and unpredictable course.
Jo Baker's Longbourn sails right past the drawing room and into the kitchen, revealing the lives of Regency England servants and telling the story of "Mrs. Hill and the two maids" that Jane Austen overlooked.
Beautifully done
Just when I get to thinking that living in Regency England would be fun, a book like Longbourn comes along to remind me that it would most definitely not be enjoyable.
Sarah's life is excruciating and oftentimes revolting. Chamber pots, blood, endless sewing and cooking and sweating and mud. Her one bright spot is the new footman, James, and the intelligence and kindness he brings to Longbourn.
Like the Austen novels around which it is based, Longbourn is a "slow burn" story — quick-fire action and jaw-dropping revelations are nowhere to be found. Instead it's like watching a cake rise in the oven, swelling so slowly it's nearly popping out of the pan before you realize what's happened.
Great characters
The favorites from Pride and Prejudice make their appearance, with Wickham being more involved in the story than I would have imagined (spoiler: he's still a sociopath).
I don't like how Baker portrays Elizabeth — unobservant of Sarah's blistered hands, forgetful of her situation, etc. — because I've always thought of her as being kinder than that. But the truth is that every gentleman's daughter, no matter how kind, lived a life of blissful non-observance of the lower classes. I imagine that little good came of friendships between people like Lizzie and people like Sarah.
But of course this book isn't about the Bennets. It's about Sarah and Mrs. Hill and the three other people to are responsible for keeping Longbourn running smoothly. Baker's novel brings the reader into their world, which has its own rules and challenges.
Sarah's low class belies her grit. She is strong and determined, and in the end defies even more expectations than do the Bennet sisters. Baker also does some great storytelling around Mrs. Hill, whose past comes back to her in unexpected ways.
Give it a read
If you enjoy Austen but are interested in seeing the truth squirming beneath the rocks, give Longbourn a try. It's harsh, revealing, and ultimately very satisfying.
Anyone else read Longbourn? What did you think?