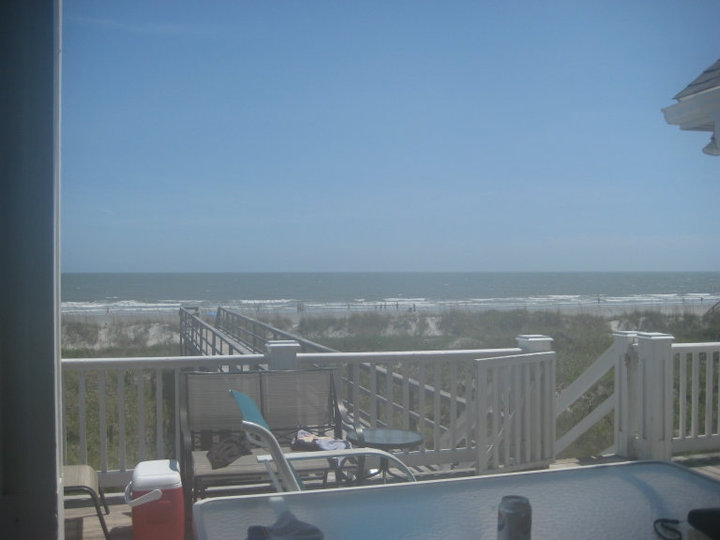 (IBQ is hosted by Chris at 61 Musings, and is a way for introverts to share all that goes into living a quiet life.)
This week's prompt: You have just won an all-expenses-paid week of vacation. Where would you go? What would you do? This is your fantasy vacation, so let your imagination soar.
A couple of years ago Best Friend and I went with a bunch of his high school buddies to Folly Beach, South Carolina. I'd love to go back there again (and with the same people).
We'd stay in a big private house right on the beach, one with a sunroom and large covered porch. Close enough to walk to restaurants and a short drive from the history and fun of Charleston, but far from civilization and the worries of everyday life.
We'd spend most of the daylight hours either on the beach or sitting on the porch, listening to the waves and feeling the cool breeze. I'd read a dozen books and talk about them with people who love reading too.
After watching the sun set and the stars come out, we'd go inside and play board and card games, watch movies, and chat about each other's lives.
There would be a lot of laughing.
We'd stay up late every night, and sleep with the windows open so we could listen to the waves as we drifted off. We'd sleep in every day, ignoring alarms and email notifications and Facebook.
We'd go into Charleston and play tourist, visiting all the old houses and museums. We'd eat good food and listen to amazing jazz and raise a toast to us. We'd get a little tipsy.
Best Friend and I would dance together, and I wouldn't trip over my feet or his. We'd take lots of photos together. We'd kiss with our feet in the surf.
My anxieties would fade, and I would finally be able to focus on being in the moment, memorizing sensations and conversations. I would not worry, I would not be fearful of tomorrow. I would be present in the moment and completely happy.
Your turn. Tell me about your dream vacation!