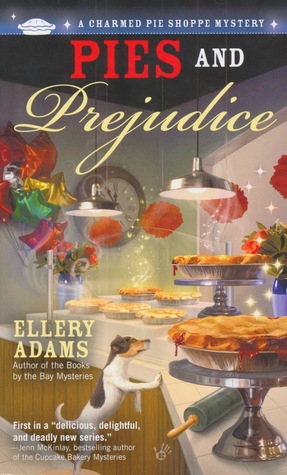 Ella Mae LeFaye bakes a mean pie, just about the only thing going right in her life. A failed marriage has driven her back to Georgia and the town from which she thought she'd finally escaped.
Her mother and three aunts are there to welcome her with open arms…and a family secret. Ella Maye opens the pie shop of her dreams, but old foes and flames are alive and well in Havenwood; when a local businessman is found dead — murdered with her rolling pin — it seems like Ella Mae's life is about to get much less sweet.
Simply delicious
Ellery Adams' Pies and Prejudice was a gift from my Mother-in-law, who always seems to know the best time to distract me from dusty tomes and chunksters with a fun read; there's nothing like a juicy mystery and (spoiler alert!) happy ending to cleanse the soul.
The book has great characters that range from kind and funny to completely evil, with a few people you — and Ella Mae — just can't quite pin down. Her aunts are a trifecta of love, support, and attitude, and of course there's the obligatory "will she, won't she" of Ella Mae's obsession with her old flame Hugh.
Another major "character" is the magical heritage of which Ella Mae is a part. As in Sarah Addison Allen's Garden Spells it's clear that magic runs in families (and possibly through entire towns), and it's fun guessing the nature of everyone's abilities.
My one disappointment is that the Pride and Prejudice theme wasn't prominent. I was expecting a closer connection between the two, and missed it.
Pies and Prejudice is the first in Adams' A Charmed Pie Shoppe Mystery series, of which three are published. While I enjoyed the book, it's definitely not in the center of my wheelhouse, so I probably wouldn't continue the series unless the next books fell into my lap.
But don't let that stop you — Pies and Prejudice was charming and fun, a perfect quick read with a lot of heart (and sweets!).