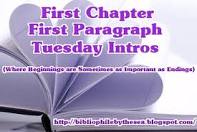 (First Chapter, First Paragraph is hosted by Bibliophile By the Sea. Every Tuesday we share the first paragraph or two of a book we're reading or thinking about reading soon. Care to join us?)
My mother-in-law gets me, which is why for Christmas I received a copy of Ellery Adams' Pies and Prejudice (get it?).
Ella Mae LeFaye Kitteridge slammed a ball of dough onto the countertop, sending a snowstorm of flour into the air. With angry fingers, she worked pinches of flour into the moist dough and then flattened it with her palm, her hazel eyes flashing a dangerous crocodile green.
I have no idea where this is going — and I'm thinking it's going to be lighter fare than I typically read — but I bet it's going to be lots of fun!
Would you keep reading?