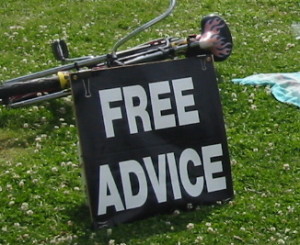 Best Friend and I are in the process of finding a new apartment. I've spent a lot of time researching complexes online, and as a potential renter I'm frustrated by a handful of stupid things I've seen over and over again.
As a marketer I'm even more frustrated because I know these things are chasing away potential customers. I don't understand why these complexes don't bother to tailor their websites to give their audience what it wants.
(This isn't a bookish topic, but it is Non-fiction November and this is my blog, so I can write about whatever I damn well please. Cue the rant!)
Free marketing advice for apartments
Wondering why your complex is only half-full and prospective renters treat a tour like it's a death march? Stop doing this shit:
Dumb photography choices
I don't give a crap about your main office building, community BBQ pits, fitness center, or pool; when I come to your website I want to see pictures of the interior of one of your apartments. If your minute-long video tour doesn't feature an image of an actual apartment until 45 seconds in, you're doing it wrong.
Put the pictures of unit interiors first. Stop trying to sell the stuff people don't use.
Making me call corporate
When I call to ask about your apartments' availability and pricing and ask about tours, I want to talk to someone who's actually at the complex — not the building management company's corporate offices in BFE. I don't want to have to give you my phone number and email address before you'll talk to me about pricing and availability.
Put your local number on your website. I want to talk to someone who's actually there, not Tiffany the Sales Associate who only takes down my email address so she can sign me up for the mailing list in which I have no interest (and to which it's illegal to subscribe me without my explicit permission).
Treating pricing like the secret to fission
I get it: pricing changes based on the market, on demand, on what upgrades have been made to individual units, blah blah blah. I'm not expecting an exact number, but I do require a range. You're trying to make it so that I have to call you to learn anything about what apartments are available and how much they cost. But I'm not that far down the sales funnel, so having to call and listen to your sales spiel before you tell me pricing just pisses me off.
Having a terrible website
There are literally thousands of decent-looking, affordable website themes out there. Install WordPress, add a clean theme with a simple layout, and ruthlessly expunge all clipart and rainbow text.
If I'm going to be paying you $1,000+ a month for an apartment (and there's a bazillion other renters doing so too), you better have a decent website. It's 2013 — there's no excuse for shitty design.
Zero helpful content
Do you have any idea how many questions people who are renting have? How much business do you think you'd get if your website popped up first when people in your area search for:
How much rent can I afford?
Hidden fees when renting
What should I look for in an apartment?
Questions to ask while looking at apartments
Start a blog. Answer questions. Show up in Google more often. Why would you not do this?
Okay. I feel better now.
(This post is part of Non-fiction November. Click the link to see posts from this and previous years!)
[Image: Solo, with others]