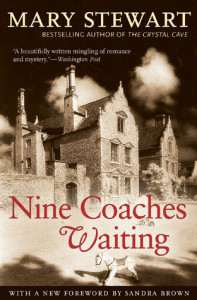 Linda Martin arrives in France expecting little excitement or trouble. Her young charge — the nine year-old Count Philippe de Valmy — is a well-behaved child, and the work of governess is not strenuous.
However, something about the Château Valmy feels…oppressive. Philippe is terrified of his uncle Leon, the family trustee, whose paralysis is no hindrance to his managing the estate from his wheelchair. The servants are nervous, dancing around unknown secrets every time Linda questions them.
At first the young woman chalks her worry up to her imagination — but when an accident in the woods near the house almost kills Philippe, she begins to wonder just what the Valmy family is up to…
The perfect Halloween read
I love a good spooky story, and Mary Stewart's Nine Coaches Waiting was the perfect choice. The creepy atmosphere is a character unto itself, and the "whodunit" tension is so tight you could play a bow across it.
Linda's a great character, intelligent, resourceful, and just a little nosy. She stands by the people she considers friends, and loves Philippe more than anyone else. Raoul is exciting, with his dangerous driving habits and fondness for sudden, stolen kisses. Too bad he might be involved in the plot to do away with Philippe.
The book was originally published in 1958 and is considered "suspense, Gothic Romance," — although it has little in common with books like The Woman in White and The Castle of Otranto (two books that typify the Gothic genre). No supernatural sightings or interference here; just bad people with murder on their minds.
The plot builds gradually, a slow burn in which you feel like there's not much happening. But the action kicks off with a bang — literally — and I spent half the book gnawing on my fingernails as Linda inches closer to discovering the truth.
It's a little late to read Nine Coaches Waiting on Halloween night, but it's just as well: once you pick it up you won't be able to put it down, which would make for some mighty disappointed Trick-or-Treaters.