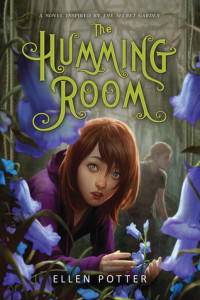 When recently orphaned Roo Fanshaw — thin, small, solitary — is sent to live with her eccentric uncle on Cough Rock Island, she does not expect to be happy. The house was at one point a tuberculosis sanitarium for children, and is full of ghost stories and secrets.
Roo doesn't believe in ghosts, so who or what is responsible for the eerie noises that float through the walls? Our intrepid heroine's curiosity is ignited, and soon she discovers her uncle's two biggest secrets: a son, and a long-abandoned garden hiding a tragic secret.
A nice adaptation
As you probably guessed, Ellen Potter's The Humming Room is a retelling of Francis Hodgson Burnett's The Secret Garden. It's contemporary, obviously, and contains even more magic elements than Burnett's original.
The reader's introduction to Roo is heartbreaking: her parents have just been murdered, and it's apparent that she has never truly been cared for. She's quiet and extremely introverted, preferring to hide in dark, silent spaces away from people.
What I love most about her transformation is that's caused by curiosity. Roo is smart, and knows when she's being lied to — she's determined to learn the truth, and that determination is really what saves her.
The Secret Garden tells the story better and more completely, but Ellen Potter's The Humming Room is a perfect introduction to the story for middle schoolers.