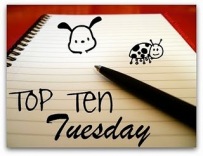 (Top Ten Tuesday is a weekly meme brought to you by The Broke and the Bookish.)
Recently a friend of mine and I were talking about the new "The Great Gatsby" film, and he wondered aloud why I hadn't reviewed the book in honor of the film's release. This prompted a confession that I read The Great Gatsby in high school and despised it. So this week our topic is some "great" works that I just freakin' can't stand.
The Great Gatsby (F. Scott Fitzgerald)
About this novel I say the same thing a certain comedian said about the Brat Pack movies: "Pretty people with problems!" Call me crazy, but I'm not interested in re-reading a novel about a guy whose main problem is that he can't have everything he wants.
Great Expectations (Charles Dickens)
Good grief, the drivel! Overbearing, over-lengthy, and dull. Plus I want to smack the snot out of Estella.
The Three Musketeers (Alexandre Dumas)
Couldn't tell the characters apart, couldn't actually tell what the plot was, or why everyone seemed to hate Richelieu so much. I couldn't get into the novel in 150 pages; there was no way I was reading the other 500-some.
The Scarlet Letter (Nathaniel Hawthorne)
Nothing like being whacked about the head and shoulders with repeated reminders that it's all symbolism. As I said in my original review, the themes are great and still relevant, but the story has lost most of its shock value, and Hawthorne could have let up on the symbolism and still gotten his point across.
Let the flame comments begin!