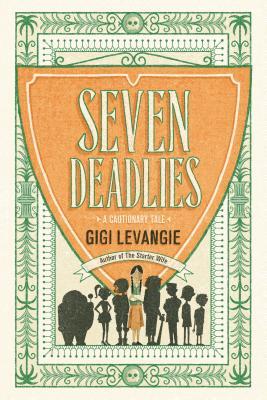 14 year-old Perry Gonzales is what her teachers would call "precocious." She's the smartest student at the prestigious Mark Frost Academy, and is often called on to tutor students older than herself.
In a series of college admissions essays (yes, she's only 14, but there's no time like the present), Perry writes about seven of her clients, each of whom typify one of the "seven deadlies" (sloth, lust, etc.). She tries to help them save themselves, but in the end each is destroyed by their greatest flaw.
Well…huh
I spent the first few chapters of Seven Deadlies: A Cautionary Tale thinking, "This is kinda weird," the middle few thinking, "Um…okay?" and then last couple like this:
I'm not alone in this reaction — the reviews are overwhelmingly negative. I think author Gigi Levangie was going for social commentary, and did well in some spots, but the book never really came together.
Something about the book made me expect some kind of twist — Perry's really just too unbelievable a character to be real. But the last couple chapters were over-the-top ridiculous, and I finished the book with a grateful sigh.
Seven Deadlies had some shining moments (Perry's mother is amazing), but overall was a dud. Lamesauce.