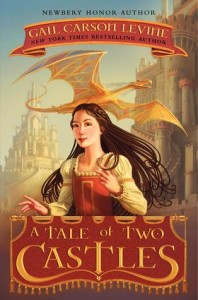 It's always been Elodie's dream to travel to Two Castles and become a mansioner (actress). But when the master of the troupe turns her away, Elodie is left destitute. The dragon Meenore takes her in, then promptly sends her on dangerous mission inside an ogre's castle.
Disguised as a kitchen maid, Elodie must navigate her way between a sadistic king, an odd princess, an ogre lord, and a bevy of other characters, each of whom has reason to commit murder. Can Elodie unmask the culprit before it's too late? And more importantly, who exactly can she trust?
Kind of a letdown
Realistically, what's not to love? A female lead with just enough fire and sass, a dragon, intrigue, and just a whiff of magic. But for some reason I just wasn't feeling this one.
I'm pretty sure it has to do with the worldbuilding — some of it was just a little beyond the realm of believability, even for a fantasy novel. The idea of shapeshifting ogres is one thing, but the concept of a large group of cats somehow being trained to force an ogre to transform into a mouse so they can eat it…? It's just a little too weird. I also didn't like the fact that Meenore is always referred to as "IT" (even though everyone knows she's female, they all refer to her this way — apparently that's a world norm). It made reading feel awkward.
Which is a huge bummer, because I like the rest of the story well enough. The characters were wonderful, and the plot great. It was exciting to watch Elodie learn who was friend and who was foe, and use the lessons in deduction provided by Meenore to observe the world around her and help solve the mystery.
As I think back, though, I recall not really being a fan of most of Levine's works. Ella Enchanted was and continues to be a popular novel, but I don't remember enjoying it. Maybe this author just isn't for me.
Anyone read A Tale of Two Castles? Am I totally crazy, or did you have problems with it too?
(I read this book as part of The Mount TBR Challenge. Here's to a shorter list!)

It's your last chance to win a copy of Neil Gaiman and Terry Pratchett's Good Omens. Enter the giveaway now!