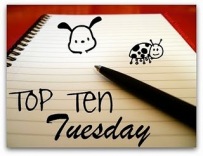 (Top Ten Tuesday is a weekly meme brought to you by The Broke and the Bookish.)
I've been reading a lot of standalone books recently; but my TBR list has a handful of series that I really want to get to (you know, eventually). Here's just a few of those.
Chronicles of the Imaginarium Geographica – Three young men embark on unexpected adventures when they discover they "…are now the caretakers of the Imaginarium Geographica — an atlas of all the lands that have ever existed in myth and legend, fable and fairy tale." Author James A. Owen kicks off the series with Here, There be Dragons.
The Magicians – I know, who hasn't started this series yet? I'm not sure how I feel about Grossman's series being called "Harry Potter for grown-ups," but the premise sounds intriguing. I've heard that the main character is a bit of a jackass, so I'm kind of avoiding getting started. The Magicians is the first in the series.
Ranger's Apprentice – The Ruins of Gorlan introduces us to Will, who has been selected as the apprentice of the Rangers, a secretive group that are said to practice magic that makes them invisible to their enemies. I've never heard of author John Flanagan, but I can't wait to dig into his series!
Paranormal Scene Investigations – "Welcome to P.U.P.I.—Private, Unaffiliated, Paranormal Investigations A handpicked team trained to solve crimes the regular police can't touch—crimes of magic." Author Laura Anne Gilman seems like my kind of writer; the series starts with Hard Magic.
Flavia de Luce – Gloria brought this series to my attention last week (check out the comments at that link). I'd heard of the first in the series, The Sweetness at the Bottom of the Pie, but hadn't paid much attention to it. But if it starts "a precocious girl in 1950s rural England with a penchant for chemistry and stumbling upon corpses," I'm so in.
What series are you hoping to dive into soon? Which of these should I start first?