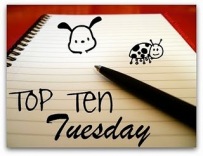 (Top Ten Tuesday is a weekly meme brought to you by The Broke and the Bookish.)
Although a lot of bookish people spend time talking about books and characters, we've also got our favorite authors — the ones we fawn over, recommend to everyone, and buy everything they write as soon as the ink is dry. Here's my auto-buy author list.
Bill Bryson
I read At Home and immediately added the rest of Bryson's books to my TBR. I love his books' mix of humor and history. Truly great non-fiction writing.
Kristin Cashore
Graceling was one of my favorite reads of 2010, Fire was a great companion novel, and Bitterblue set the stage for the rest of what started out and continues to be an amazing YA fantasy series with some of my favorite female characters.
Jasper Fforde
I feel like I never shut up about Jasper Fforde and his Thursday Next and Nursery Crime series. Literary allusions and puns galore, incredibly smart and funny writing. Fforde recently broke into the YA genre with The Last Dragonslayer — it lacks the sparkle of his adult series, but I loved it nonetheless. Keep 'em coming, Mr. Fforde!
Terry Pratchett
This man is a master. His Discworld is one of the most complex worlds I've read. Hogfather has become one of my Christmas favorites, and The Wee Free Men introduces a spunky young witch you can't help but love. Plus he wrote a book with Neil Gaiman; why wouldn't you put this guy on your auto-buy list?
Rick Riordan
Myths. Monsters. Children of Greek gods. Egyptian gods run amok. A tequila-guzzling, crime-solving Texan. I would read the fine print for a cholesterol-lowering drug if Riordan wrote it.
Mary Roach
I discovered Mary Roach's Stiff: The Curious Lives of Human Cadavers by accident, and loved her sense of humor and penchant for researching—in excruciatingly good-natured detail—the subjects that others might consider a little ooky. Reading Bonk and Packing for Mars cemented my obsession.
Which authors are on your auto-buy list? Let me know in the comments!