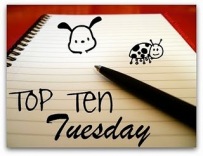 (Top Ten Tuesday is a weekly meme brought to you by The Broke and the Bookish. Want to make your own list? Clicking the image will take you to this week's post. Happy listing!)
Pizza and ranch dressing. Chocolate and peanut butter. Oreos and ice-cold milk. Some of life's greatest pairings are food-related, but the pairings in literature are often just as delicious.
1. Emperor Zhark and Mrs. Tiggy-Winkle (Thursday Next series) – One is a megalomaniac bent on galactic domination, and the other takes in washing on the side. This unlikely pairing works together as agents of Jurisfiction, the policing agency within the Book World. Mrs. Tiggy-Winkle is often the only one who can contain the Emperor's penchant for dramatic entrances and exits.
2. Crowley and Aziraphale (Good Omens) – A demon and an angel who have been assigned to earth, with the job of foiling the other side's attempts to destroy/save people. But they've gotten comfortable: Crowley enjoys fast cars, and Aziraphale is an official bibliophile. They each distrust the other, but have reached an uneasy truce. But when rumors of the Apocalypse start flying, the two enemies must pair up to save the planet they've grown to love…
3. Jameson Rook and Nikki Heat (Heat Wave) – Two people who could not be more perfect for each other. Both are intelligent, quick-witted, and they balance each other out nicely. Plus everyone knows they've got the hots for each other. It's only a matter of time.
4. Robin and Prudence (The Masqueraders) – A pair of siblings very much used to adventures. They're both very observant, very smart, and spend most of the book masquerading as their opposite genders. Gotta love historical fiction and swashbuckling! Also, Prudence kicks butt.
5. Eros and Psyche (Greek mythology) – My favorite telling of this story happens in Mary Zimmerman's Metamorphoses (an adaptation of Ovid's classic). The inevitability of it is what draws me to these characters. I just think it's a great metaphor: without one, the other cannot fully exist.
6. Claudia and Jamie Kincaid (From the Mixed-Up Files of Mrs. Basil. E. Frankweiler) – 12 year-old Claudia, mistreated pre-teen, and her 9 year-old brother Jamie, pinchpenny extraordinaire, run away to the Metropolitan Museum of Art. Typical sibling squabbling abounds, but when the two uncover a mystery, they must work together to solve it. A great duo because they depend on each other's strengths to pull off a masterful plan.
7. Inigo Montoya and Fezzik ("The Princess Bride") – Possibly the best "best friend" duo of all time. They play well off each other, with a healthy balance of humor and seriousness. They'll do anything to help each other—and who doesn't want a friendship like that?
Who are some of your favorite duos? Which character would you choose to be your partner in crime?