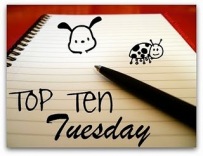 (Top Ten Tuesday is a weekly meme brought to you by The Broke and the Bookish.)
I've always been more interested in characters than setting, but the truth is that a good setting becomes a character. Here's some settings I hope to enjoy more of this year.
The Deep South
Texas is just about as geographically far south as you can get in the US, but the state has more of the feeling of the wild west than the south. The Deep South really refers—in my mind, anyway—to places like Louisiana, Alabama, Georgia, Mississippi, and the Carolinas.
These are mysterious places where trees breathe, magic lurks, and great and terrible things happen. Books like Shadowed Summer, Chime, The River Witch, and Fried Green Tomatoes at the Whistle-Stop Cafe turn the Deep South into a character all its own, and I love it.
19th/20th century England
Because clearly I haven't read enough of it.
Fantasy worlds
This is a big category, but it's one of my favorites. What makes the fantasy genre so incredible is that anything can happen. Dragons? Check. Powerful Graces? Done. Witches and spells? Got it.
The real world (fiction and non-fiction alike) is interesting enough, but I prefer a great fantasy setting any day!
Old Chicago and New York
Whether it's Sin in the Second City, The Girl is Murder (Kathryn Miller Haines), or Island of Vice: Theodore Roosevelt's Doomed Quest to Clean Up Sin-Loving New York (Richard Zacks), I'm all over Chicago and New York.
What book settings do you really love (or hate)? Let's discuss in the comments!