It's been almost a year since my last big singing, so for the past month or so I've had Sacred Harp on the brain in a major way. And since the next best thing to singing Sacred Harp is reading about it, I've been doing just that.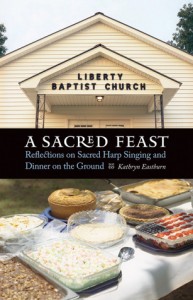 First came a non-fiction, A Sacred Feast: Reflections of Sacred Harp Singing and Dinner on the Ground. While on a quest to research both her family's roots and the old Baptist hymns of her childhood, author Kathryn Eastburn keeps coming across references to "Sacred Harp." What starts as a writing assignment for Texas Highways quickly becomes a personal obsession, and eventually A Sacred Feast itself. This book covers the basic history of the Sacred Harp, as well as singings—and food!—in Texas, Alabama, Seattle, and elsewhere. Eastburn includes dozens of recipes sent in by singers, many of which I'm planning to make for upcoming singings I attend.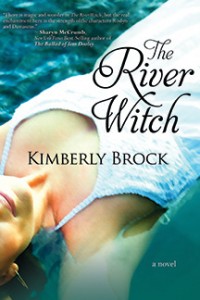 Next up was Kimberley Brock's novel The River Witch. Roslyn Byrne rents a house on Manny's Island, Georgia, hoping to escape the sadness and pain of a car wreck and miscarriage — and her Southern mama's well-meaning but frustrating behavior and advice. But the swamps of Georgia are full of ghosts, including Roslyn's. Old Sacred Harp recordings bring back memories of her grandmother, as well as of the past Roslyn wishes she could forget. This is the first novel I've seen or read that mentions Sacred Harp, and I wanted to see if Brock could capture the art form's magic and use it in a work of fiction.
Coming home
Although these books approach Sacred Harp from vastly different perspectives, the core theme of each involves returning home: Eastburn because she wants to reconnect with her heritage, and Roslyn because it's what she needs to do in order to heal.
I enjoyed both books, but Eastburn's spoke to me on a much more visceral level; the introduction alone had me in tears because the author managed to put on paper the exact feelings I felt at my first big singing, a grab bag of shyness, excitement, and a deep humming and ringing in my bones that was caused only partially by the music's ear-splitting volume.
I didn't grow up singing Sacred Harp, but looking back it seems it's always been with me. The notes in the hymnals at my grandparents' church follow the four shapes of the Sacred Harp; my grandmother found the 1907 Cooper book I have somewhere in her parents/in-laws' possessions; and old songs I've always loved—like "Up From the Grave He Arose" and "Wondrous Love"—have turned out to be variations of Sacred Harp tunes.
It's interesting to see how things come full circle.