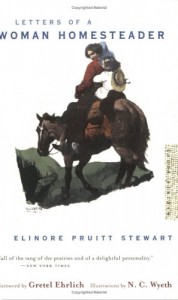 In 1909 Elinore Pruitt Stewart and her young daughter left Denver, Colorado for the prairies of Wyoming. The land is wild— its inhabitants only marginally less so—and ranching as a single woman in difficult.
Letters of a Woman Homesteader includes letters from Elinore to her former employer — a snapshot of three years' time spent ranching, surviving, and thriving. Elinore describes odd characters (from hermits to foreign settlers), beautiful landscapes, and harsh environments, giving the reader just a taste of what it would have been like for settlers in the early 20th century.
Nicely done
This was a cheerful, lovely sort of book — perfect for plane rides or other adventures. Stewart was a master at weaving tales, and I gobbled up her descriptions of mountains, snow, and her (occasionally crazy) encounters with neighbors and wildlife.
If you enjoy Laura Ingalls Wilder's writing, Letters of a Woman Homesteader should be right up your alley. Stewart's writing draws you in and suddenly you feel as if you're sitting in the rocking chair at her hearth, chatting with an old friend.