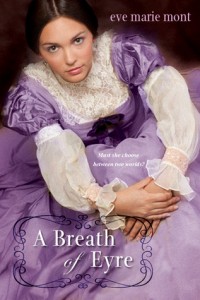 Life is not easy for Emma. She feels out of place at the exclusive prep school she attends, there's a boy she can't decide whether or not she likes (or if he likes her), and her stepmother doesn't come close to filling the void left by her mother's death.
The only time Emma's life feels right is when she's reading; books are her escape from a life she hates. But things go too far when she finds herself inside the story of Jane Eyre, and falling in love with the brooding Mr. Rochester.
As she moves between Jane's world and her own, Emma discovers secrets about herself and others. And eventually she must decide just where she belongs.
An okay start
The beginning of this book was pretty formulaic. Girl who attends a fancy private school on scholarship and so is bullied and marginalized, feels an overwhelming desire to escape from tense relationships; a boy who may or may not like her; escaping into a story and developing a crush on the main character of that story; needing to choose between two worlds. Angst and hormones dripping from the page like sap. And good grief, the drama.
Surprise deep thoughts!
I was still trying to figure out if I was fine with or irritated by the fact that the book was feeling like a fluffy, angsty YA read when Shit. Got. Serious.
A Breath of Eyre is not about a girl who escapes into a story; it's about a young woman who is pulled into a dream where she discovers and is forced to confront secrets — her own and others'. A place where she may have more in common with a madwoman than a governess.
Part coming-of-age mixed with literary allusions and (maybe just a bit too much) teen drama, A Breath of Eyre is definitely worth giving a try. I guarantee its depth will surprise you.