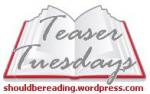 Teaser Tuesdays is a weekly event hosted by Should Be Reading. The rules are simple:
Grab your current read
Open to a random page
Share two "teaser" sentences from somewhere on that page (as well as the book's title and author)
Be careful not to include spoilers
Today's teaser is from Brian Jacques' Redwall:
To the astonishment of the watching mice, the step slid smoothly outwards on the greased stone. It turned completely over to reveal a dark opening with a downward flight of stairs running off into the blackness below.
This is a recommendation from Best Friend, whose taste I trust completely. I think it will be a fun one.
Anyone read this book/series? Let me know in the comments!