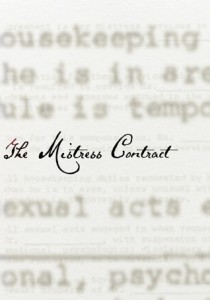 **This review contains adult language and discusses sex and sexuality in frank terms.**
Sometime in the 1980s, somewhere in America, a contract was signed. In this contract one party—known as "He"—agrees to provide for the other—called "She"—financially (home, food, luxuries, travel, etc.) in exchange for sexual favors:
"For duration of Agreement, [She] becomes the sexual property of [He]."
The Mistress Contract is a book of transcripts, conversations between He and She. It's an amazing glimpse into a complex relationship and the minds of the people in it.
A doozy of a book
It's difficult to write a review for a book like The Mistress Contract because the reactions of the reader — whether positive or negative — are so personal that sharing them with the world feels impossible. Not only do I not want to share too much about my personal proclivities, the chances of any of you guys' wanting to read about them are pretty slim.
It's also just the tip (ha!) of the sex/sexuality/morality/behavior iceberg; it's easy to fall down the review rabbit hole and never make it back.
Suffice to say that The Mistress Contract was a fascinating read — a jumble of conversations recorded over dinner, on the phone, and in bed. Topics range from feminism to how previous partners affect the current relationship, as well as the age-old "What's wrong with sucking my dick?" question.
Even though the book felt a little one-sided (the pair always seems to be discussing Her "hangups" or Her "issues with feminism") and wasn't exactly what I was expecting, it was a good read, and one that has provoked much internal reflection. Recommended reading.
What do you think of The Mistress Contract, and/or the kind of relationship it portrays?
**Did you know I'm doing a giveaway of Oliver Pötzsch's The Hangman's Daughter? Click here to enter to win! Giveaway ends March 26th.**