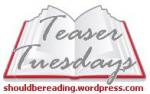 Teaser Tuesdays is a weekly event hosted by Should Be Reading. The rules are simple:
Grab your current read
Open to a random page
Share two "teaser" sentences from somewhere on that page (as well as the book's title and author)
Be careful not to include spoilers
Even though it was a holiday, last weekend I managed to get a quick peek at The Sex Diaries Project:
…the pages ahead will open your eyes to what is actually happening behind bedroom (and kitchen, bathroom, and closet) doors nationwide…the diaries are a phenomenon because they are all about the ways that people just like you connect with—and disconnect from—others: emotionally, romantically, physically. Relationships are the centerpiece of our lives, yet rarely do we see the available options or have a context to which we can compare ourselves.
Most people, myself included, are paranoid about being "normal," especially when it comes to things like sexual preferences, tastes, and appetites. It's going to be interesting to see the variety of relationships showcased in this book, and I can't wait to dive in further!