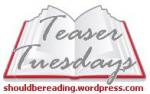 Teaser Tuesdays is a weekly event hosted by Should Be Reading. The rules are simple:
Grab your current read
Open to a random page
Share two "teaser" sentences from somewhere on that page (as well as the book's title and author)
Be careful not to include spoilers
I've written before about Sacred Harp singing and why I love it. I listen to and sing the music often, but I don't know as much about the history of the art form as I'd like. Which is why this week I'm diving into A Sacred Feast: Reflections on Sacred Harp Singing and Dinner on the Ground, by Kathryn Eastburn:
Karen's book is a living history, the pages crowded with notes scribbled throughout: 'Sung at Papa's funeral.' 'First song Alison ever led.'
The book referenced here is one of the Sacred Harp songbooks, and I can vouch for their being a "living history." Singers scribble notes in the margins, keep tallies of how many times they've sung a specific song, list their favorites in the front and back covers, dog ear and mark pages with Post-It Notes and scraps of paper.
Okay, enough rambling. Back to reading!