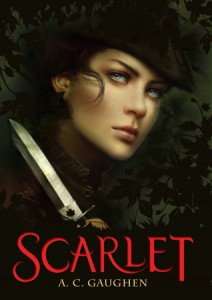 Tales and rumors of Robin Hood are legendary in Nottingham — after all, it's only Robin and his men who stand between the ruthless sheriff and the over-taxed poor. Much is made of Robin, but the person most people don't see is Will Scarlet, a thin lad, dagger-wielder, and thief.
And that's just fine with Will. Because the fewer who notice him, the less chance there is of discovery. Only Robin's men know the truth: Will Scarlet is, in fact, just Scarlet.
A.C. Gaughen's Scarlet tells the classic Robin Hood story from the perspective of a girl masquerading as a boy. The title character is brave and compassionate, but has a secret past that is drawing closer, and will soon threaten everything she knows, including the man she loves more than anything.
A quick aside
I'm constantly amazed by the strange reading habits of young people in my town. I was at the library and saw this just sitting on a shelf, just like all the other books. How is it that I didn't have to get on a waiting list a mile long? Do the kids in my town not read, or not pay attention to new releases?
They all apparently walked by without realizing how cool this book is, but their missed opportunity made it easier for me to get a copy, so I guess I can't complain too much.
Now, the review
Scarlet is a straight-up "Good vs. Bad" book.
The Good Guys – Robin Hood and his newly-formed band, made up of himself, Scarlet, John Little, and a boy named Much. Robbing the rich to steal the poor, defending the defenseless, and rescuing people from…
The Bad Guys – The Sheriff of Nottingham and Guy Gisbourne, thief hunter and all-around sadist. Assorted guards ("cannon fodder"). And of course Prince John, who I'm sure will make an appearance later in the series.
It's a twist on some of the classic adventure novels, full of chases and escapes, and the hint of romance and angst that will make it appealing to teens.
It's bloody, but not gratuitously so. Gisbourne makes my skin crawl, and I'm looking forward to his subsequent demise (hopefully at the hands of Scarlet herself). My only complaint is that it's the first in yet another series. Are YA authors incapable of writing a standalone novel? Highly recommended reading.
Have you read Scarlet yet? I'd love to know your thoughts in the comments!