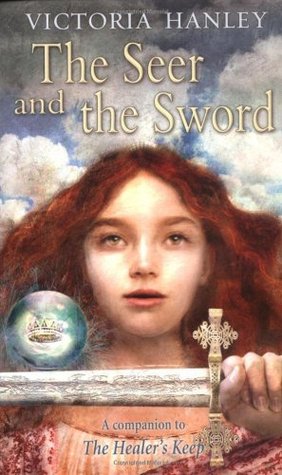 Princess Torina's life has always been perfect. Her father is king of Archeld, the mightiest of the kingdoms, and brings home many conquests of war — including a mysterious crystal sphere that shows Torina the future…and Landen, the son of a fallen king.
But as in any perfect kingdom, not all is as it seems. Greed, lust, and treason lurk around every corner, and soon Torina and Landen are caught up in a plot that goes far beyond the borders of Archeld.
A fun read
This nifty little adventure — first in a trilogy — was written by Victoria Hanley, which explains how it ended up next to Merrie Haskell's The Princess Curse on the library shelf. And I'm a sucker for cover art like that (even if Torina does have a slight "man-face" issue on the edition of the book I have).
After a bit of a rocky start (i.e., "I'm a princess and I'm supposed to be all prim and proper but I want to ride horses and shoot a bow and arrow!" blah blah blah), The Seer and the Sword turned into a nicely done novel, with some unexpected twists and turns.
That said, this one didn't wow me. It's something I would have read in middle or early high school and loved, but it pales in comparison to Rothfuss' The Name of the Wind and Pratchett's Wee Free Men.
I'd recommend The Seer and the Sword to young people who are just dipping their toe into the fantasy genre. It's a great place to start, and can be read as a standalone.
What's your favorite fantasy novel?