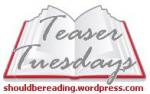 Teaser Tuesdays is a weekly event hosted by Should Be Reading. The rules are simple:
Grab your current read
Open to a random page
Share two "teaser" sentences from somewhere on that page (as well as the book's title and author)
Be careful not to include spoilers
This teaser is from Letters of a Woman Homesteader, a little book of letters written by Elinore Pruitt Stewart from 1909 to 1913.
That day was especially beautiful. The gleaming snow peaks and heavy forest south and at our back; west, north, and east, long, broken lines of the distant mountains with their blue haze.
Elinore moved herself and her daughter from Denver to work for a Wyoming rancher. That man, a Scot named Stewart, eventually convinced Elinore to marry him. The letters show one side of a conversation between Elinore and her former employer, Juliet Coney.
I'm not too far into the letters, but I'm really liking them. It reminds me of Nothing Daunted, with descriptions of beauty and hardship in the Wild West.