(WWW Wednesdays is a meme hosted by Should Be Reading. Click on the image to join the fun!)
To play along just answer the following three questions:
What did you recently finish reading?
What are you currently reading?
What do you think you'll read next?
Recently finished
I've just finished another of Georgette Heyer's Regency novels, Lady of Quality. Typically for Heyer, it was awesome, a combination of amazing writing and giggle-inducing situations. I love when two characters have verbal sword fights, and this book had a lot of that.
Currently reading
I'm trying to finish Heart-Shaped Box by the end of the month, but I've got a busy week and weekend, so I'm not sure it will happen. It's not what I would normally read, but I like expanding my bookish horizons now and then.
Coming up next
I think I have just enough time in the month to catch up on some reviews, and then it's time for this year's Non-Fiction November — check back tomorrow for the formal announcement, as well as a list of what books I'll be reading (or you can subscribe. just sayin').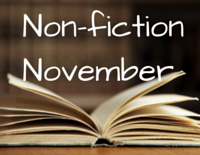 What are you reading this week?