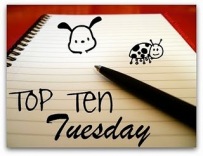 (Top Ten Tuesday is a weekly meme brought to you by The Broke and the Bookish. Want to make your own list? Clicking the image will take you to this week's post. Happy listing!)
Readers spend a lot of time imagining aspects of books: What does this character look like? What does this setting look like? How would this scene play out? And although the reality of book-to-film adaptations isn't always rosy, I can always dream. Here's my list of the books I'd most love to see made into films.
1. The Eyre Affair (Jasper Fforde) – I'd love to see Fforde's crazy, ridiculous world brought to life. I haven't been able to pin down what Bradshaw looks like, and for some reason I always imagine Emperor Zhark as looking like Zaphod Beeblebrox (Hitchiker's Guide). I'd love to see a directors' take on the characters.
2. The Host (Stephanie Meyer) – I find the themes in Meyer's novel to be intensely interesting and relevant, and I'd love to see it on the big screen.
3. From the Mixed-Up Files of Mrs. Basil E. Frankweiler (E.L. Konigsburg) – A classic from childhood that I must have read dozens of times. It'd be kind of tricky to do, because it's just two characters most of the time, but it'd be worth a viewing.
4. Outlander (Diana Gabaldon) – A sweeping epic that would be ludicrously expensive to film, and would possibly merit an NC-17 rating. But it'd make a great movie.
5. Good Omens (Neil Gaiman and Terry Pratchett) – I love British humor, and this book is one of those awesome ones that has some great themes masquerading beneath some absolutely ridiculous comedy.
6. The Masqueraders (Georgette Heyer) – You can never have too many Regency-era films, especially when they're well-written, humorous, and have lots of swash and buckle.
7. The Giver (Lois Lowry) – I'm surprised this hasn't been adapted into a film already. It's been a long time since I've read it, but I think it would make a good family movie, with some social commentary thrown in.
Man, this list has gotten me all excited! Are you listening, filmmakers?
What book(s) would you like to see made into a movie?