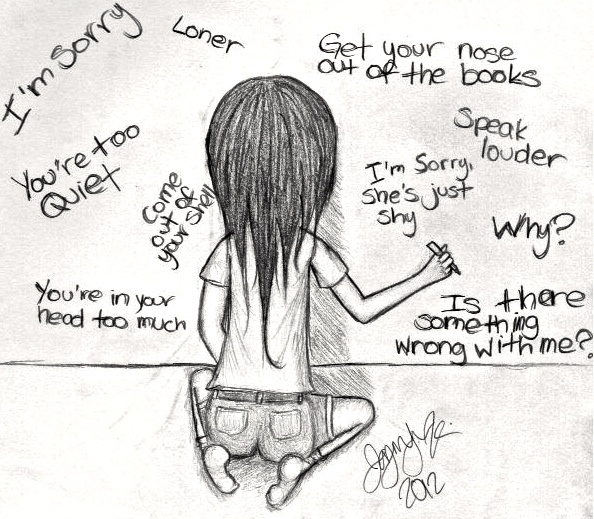 (IBQ is hosted by Chris at 61 Musings, and is a way for introverts to share all that goes into living a quiet life.)
This week's prompt: Confidence
Well that's a big ball of worms to dig up on a Sunday.
I've always had a dearth of confidence — and what little I do have often deserts me when I need it most — but I don't know how closely that intertwines with my introversion.
A lack of confidence can result in "Wallflower Syndrome," as can being an introvert — but it doesn't necessarily follow that introverts aren't or can't be confident.
One main area in which my lack of confidence is obvious is at work. I'm so afraid of making mistakes (and disappointing someone) that I freeze up, or rely too heavily on others for feedback and approval. It keeps me from taking ownership of my life, and I'm sure it affects how I'm viewed by my boss.
This dovetails nicely with what I've been working on in my CBT — namely, rooting out mistaken beliefs ("I don't deserve happiness," "I'm not good enough," etc.) and working on counter statements that help me push through fear and lack of confidence.
I've been working myself into a pit of negativity for most of my life and it's been hard work starting the climb out, but I'm determined to make it.
Another place my introversion and lack of confidence overlap is the dreaded "small talk." Most people are totally comfortable chatting about the weather and other inane topics at parties, networking events, and interviews, but to introverts this is like asking us to walk barefoot over hot coals.
Picture if you will my thoughts upon being introduced to someone new at a party:
Shake hands, but don't shake too hard. Remember to make eye contact, but don't stare. Should I ask what they do for a living? No, this is a party, they don't want to talk about work. Too late, I already asked. Trust Officer? What the hell is that? I don't understand anything they're saying. Oh God they've stopped talking. Have I talked about the weather yet? Should I tell them what I'm actually reading now, or should I pick something that seems like a better topic? I've run out of things to say neither of us has said anything in 5 seconds 10 seconds God 15 seconds how can I get out of here without being rude? Think think what am I supposed to say…
You know that horrible sinking feeling you got when you were called to the principal's office? It's like that, except it lasts the entire time I'm at the event.
It's so bad that I've actually got a stack of flashcards with small talk tips that I run through before I go somewhere. They help, but I'm a long way from being confident in social situations.
Baby steps.
How do you feel about confidence? Do you have enough, or do you wish you had more?
[Image: Mangaotakuchan]