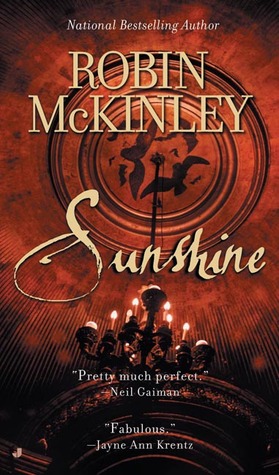 Rae "Sunshine" Seddon is your average small-town citizen, working at her stepfather's restaurant as head baker. Despite being descended from a powerful magical line, her first 20-some years of life have been pretty normal. Until now.
The nearby lake has been mostly safe for years, even after the Wars between humans and the Others (vampires, weres, angels, fairies, partbloods) everyone thought were mythical. So visiting the lake isn't really that stupid. Well, not usually.
What happens to Sunshine at the lake — and in the months following — turns her world upside down and changes her forever.
Mixed feelings
Ugh, Robin McKinley is not making it easy for me to decide whether or not I enjoy her books. I loved Deerskin and disliked Beauty, and I was hoping that this novel would break the tie.
It's the worldbuilding that threw me off. I knew going in that it was a novel about vampires, but the first chapter of the book doesn't set the reader up in any way for that subject. It's urban fantasy at its…urbanist(?) and I couldn't reconcile the modern setting with all the paranormal stuff.
I've read many "talking head" novels where most of the action takes place in the main character's head manages to be compelling and keep me interested (Deerskin is a great example of that, actually), but Sunshine is so soliloquized and stream-of-consciousness that I had a hard time keeping up. The main character already knows the world norms, and so never explains them — but as the reader I don't know them, and felt kind of lost throughout.
I did like Sunshine herself, and it was fun to see her discover the extent of her powers, but overall I just felt underwhelmed.
Unfortunately I think it's just bad timing for Sunshine; it's the end of the year, I'm moving, holiday stress is creeping slowly higher, and I'm having trouble focusing. McKinley is still on the chopping block for writers I'm interested in keeping up with, but I'll hold my final judgment until later.
What McKinley book would you recommend to make me fall in love again?