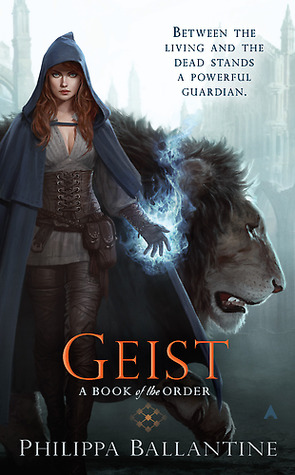 Between the living and the dead is the Order of the Deacons, protectors of the Empire, guardians against possession, sentinels enlisted to ward off the malevolent haunting of the geists…
Among the most powerful of the Order is Sorcha, now thrust into partnership with the novice Deacon, Merrick Chambers. They have been dispatched to the isolated village of Ulrich to aide the Priory with a surge of violent geist activity. With them is Raed Rossin, Pretender to the throne that Sorcha is sworn to protect, and bearer of a terrible curse.
But what greets them in the strange settlement is something far more predatory and more horrifying than any mere haunting. And as she uncovers a tradition of twisted rituals passed down through the dark reaches of history, Sorcha will be forced to reconsider everything she thinks she knows.
And if she makes it out of Ulrich alive, what in Hell is she returning to? -Goodreads
Quite the beginning
The first novel in Philippa Ballantine's Book of the Order series throws you right into the deep end, introducing you to the bulk of the world norms within the first chapter: geists coming through from their world into Sorcha's; the concept of Deacons as being "Actives" or "Sensitives" and having to pair up to be effective; and how each uses their own set of weapons to call on runes that have various harmful effects on geists, etc. There's a lot going on, and it's hard to "catch the thread" and put things in their right places.
Beyond that small complaint, though, I really enjoyed Geist. It was well-paced, had some good twists, and sets you up nicely for the next in the series.
But there were a couple things that made my heart go pitter-patter.
Makes my Inner Feminist all tingly
First, it was great seeing a BAMF like Sorcha as the main character. She's tough, no-nonsense, knows and uses her own power, and follows her gut. Even more impressively, Ballantine has given her corresponding flaws (no Polly Perfect Syndrome here!), so she's pig-headed and bossy and makes a few poor decisions throughout.
I also find myself returning to the Sensitive-Active concept. As it may or may not be obvious, Sensitives are better at sensing geist activity, knowing what geist has manifested, and aiding their Active partners in defeating the geists; on the other hand, Actives do most of the actual fighting.
It's interesting to me that Ballantine chose to make all the prominent Active characters female and all the Sensitive ones male, going against every cultural norm — all the men as more passive and sensitive, and all the women as dominant, aggressive team leaders? Hell. Yea!
Give it a shot
If you're into fantasy novels and/or great female characters, I recommend giving Geist a try. Just roll with the quick worldbuilding and I promise eventually it'll all sink in.