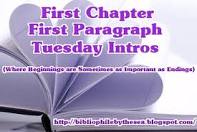 (First Chapter, First Paragraph is hosted by Bibliophile By the Sea. Every Tuesday we share the first paragraph or two of a book we're reading or thinking about reading soon. Care to join us?)
Disclosure: I received a free copy of Vintage Attraction from publisher Pegasus Books, LLC, but was not compensated for discussing/reviewing it here.
Now that Non-Fiction November 2013 is wrapped up, I'm hopping back across the library to fiction — and I'm kicking off December with my first official galley read: Charles Blackstone's Vintage Attraction.
On the El Ride to the airport, Izzy wouldn't even look at me. How had things gotten so crazy between us? It was as though Chicago's celebrity sommelier and I, her husband of almost five weeks, were complete strangers. She sat across the train car, reading her book, checking e-mail. Any job leads? When her Blackberry rang, I feared it was Pacer Rosengrant, Izzy's sommelier protege and ex-boyfriend, calling. I wanted to believe that nothing was going on between them again, but part of me couldn't. I'd found him in our bed one recent morning. The other master candidates had gone home after the blind tasting Izzy conducted. He spent the night. She slept on the couch — ostensibly. Pacer Rosengrant's return to town, coming almost as quickly as Izzy's and my falling in love, buying an apartment together, and eloping, almost decanted us. It might have even already done damage we were incapable of fleeing. Yet here Izzy and I were, going to Greece for ten days.
My goodness, so many things happening and so many questions!
If Izzy's a celebrity sommelier, why is she on the lookout for job leads?
Ugh, ex-boyfriend doesn't seem as "ex" as the narrator has been lead to believe
Their relationship moved really fast, and doesn't look like it's going well.
They're in a big fight, but going on a big vacation together? Awkward.
Blackstone's got me hooked — I want to know more, and right now!