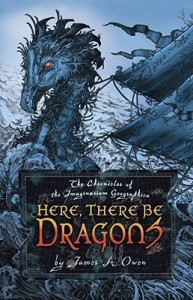 The opening act of Here, There Be Dragons is the swift and silent murder of a professor. That murder brings together three strangers — John, Jack, and Charles — and sets in motion an adventure that spans further than any of them could have dreamed.
These three are now the caretakers of the Imaginarium Geographica, an atlas of all the lands that have ever existed, and many that they thought only existed in the minds of authors and ancient storytellers.
The caretakers' first journey to land beyond WWI London is preceded by a dangerous chase in which their pursuers are…less than human. And even more danger waits across the veil at the Archipelago of Dreams. For the enchanted lands are under attack from the Winter King, and it's up to John, Jack, and Charles — and their new friends — to save the world.
Not as fun as I wanted it to be
This book seemed right up my alley: solid fantasy genre, nerdy references to imagined characters and places, dragons, etc. But I just couldn't get into the story, and I'm still trying to figure out why. It's probably got something to do with…
Completely interchangeable characters – John, Jack, and Charles started out feeling like the same character. The first two eventually developed their own personalities, but Charles faded completely into the background, and I never developed any particular liking for any of them.
The worldbuilding was confusing – First we're in London, then there's fictional monsters, then there's a battle over who's going to be king, then there's automatons and talking badgers and trolls…I could never wrap my head around the whole thing, or bring myself to care too much.
It doesn't pass the Bechdel Test – There's only one female character in the entire novel, and she spends most of the time being uptight and (understandably) avoiding all the dudes who start drooling the moment they see her. Normally this doesn't bother me — I read books that fail the test all the time and love them — but it just caught me in a mood.
In the end, James A. Owen's Here, There be Dragons felt like a less polished version of Jasper Fforde's Thursday Next series, which follows some similar themes. Fforde just executed the concept with more humor, intelligence, and grace.
However, I will note that this is merely the first in Owen's Chronicles of the Imaginarium Geographica series (the seventh of which is due out in November), and the summaries of the novels sound intriguing. But I just don't know if I can muscle through more of Owen's writing.
Am I totally off the mark here? I'd love to know what you think of the series!