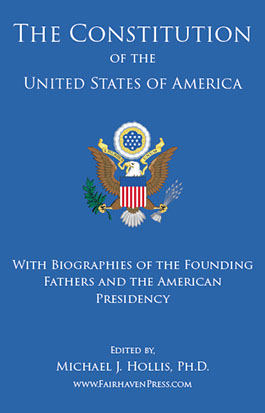 A couple months into my tenure as a government employee, it occurred to me that I'd never read America's Constitution. I know the preamble (Schoolhouse Rock version, anyone?), but it feels like of un-American to not read the whole document at least once.
So I picked up The Constitution of the United States of America: With Biographies of the Founding Fathers and the American Presidency, published by Fairhaven Press. Unfortunately its listed editor, Michael J Hollis, Ph.D., is apparently completely incompetent.
Worst editing ever?
I don't know enough about the publishing industry to understand exactly what Fairhaven Press means when they say the book is "edited by" Dr. Hollis — it could be that he merely edited the text of the Constitution, and others were responsible for writing and editing the biographies included in this book.
But if I were Dr. Hollis, I wouldn't want my name on this thing.
The problems begin on the front cover, where there is an unnecessary comma after "Edited by." Throughout the biographies I found typos, formatting inconsistencies, and incorrect punctuation choices.
These aren't major issues, but they did leave me wondering if they could be a symptom of a bigger problem. Could there be factual errors in the biographies? In the text of the Constitution itself?
I get it. Editing is hard, and sometimes it can be more about going with a gut feeling or choosing readability over following MLA or Chicago or AP style to the letter. But if you're going to produce a book that's used as a classroom supplement and call it "the best reference book for learning about American government and presidents," you better damn sure know your way around punctuation.
Shame on Fairhaven Press and its editors for allowing this book to go to press.