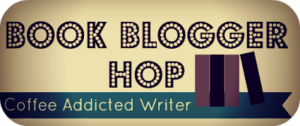 (Book Blogger Hop is hosted by Ramblings of a Coffee Addict. Hop in anytime!)
Question
What is your favorite genre? List two of your favorite books in that genre.
Answer
Whomever suggested this question is a sick person — how can anyone be expected to pick just one favorite genre? The best I can do is narrow it down to three.
Fantasy
Couldn't even stick to two books here.
Graceling (Kristin Cashore) – Great premise and world building, plus the first time I've come across a staunchly feminist YA character.
Thursday Next series (Jasper Fforde) – I can't say much here because this series reduces me to a babbling, giggling mess — just read it. First in the series is The Eyre Affair.
Discworld series (Terry Pratchett) – Absolutely perfect. Personal favorites include Hogfather and The Wee Free Men.
Mystery/thriller
Lucy (Laurence Gonzales) – A fictional tale of the world's first human-ape hybrid, Lucy, and the lengths to which some will go to protect — or harm — her. Considered a modernization of Mary Shelley's Frankenstein.
Mistress of the Art of Death (Ariana Franklin) – First in a series about a woman who studies the dead to discover the cause. And did I mention it's set in 1171?
19th century literature
Pride and Prejudice (Jane Austen) – My favorite book of all time. I own six copies, one of which isn't even in English.
Jane Eyre (Charlotte Bronte) – A polarizing book for sure, and I don't necessarily like Rochester as a person, but the novel is incredibly well written.
Can you pick just one favorite genre and two favorite books? What are they?