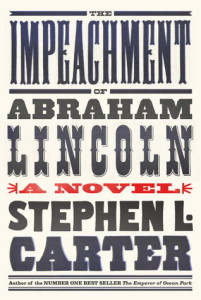 Two years after surviving an assassination attempt by John Wilkes Booth, President Abraham Lincoln is on the brink of impeachment; his enemies accuse him of overstepping his authority during and after the Civil War, and the case is not looking good.
Enter Abigail Canner, the newest clerk at Dennard & McShane, the law firm responsible for defending Mr. Lincoln. Abigail has a degree from Oberlin College, a desire to study law, and unshakeable belief in her inability to be held back because of her color. Her life defies every norm of the time, but she is determined to change the world.
But Abigail's plans change when Lincoln's head counsel is found brutally murdered just days before the trial is set to begin. Soon she and Jonathan Hilliman, another clerk at the firm, are thrown headlong into a dangerous conspiracy that threatens to bring shatter the already-divided government. Can they flush out the conspirators and find the evidence they need to defend the president?
A bit of alternate history
I've been a fan of Lincoln since reading Doris Kearns Goodwin's Team of Rivals earlier this year, and like many others I've always wondered what would have happened had he survived the assassination in 1865. Would Reconstruction have been smoother? Would he have lent his political and relational acumen to international politics?
The Impeachment of Abraham Lincoln is author Stephen L. Carter's answer to those questions.
It's always a bit dangerous to write a fictional tale about real people, and I imagine it took a lot of research for Carter to get into the heads of such important people as William Seward, Kate Sprague, and of course Lincoln himself, and have them behave in ways accurate to their true selves. Based on what I read in the non-fiction Team of Rivals, Carter appears to have gotten these characterizations perfectly.
Of the characters who never actually lived — the Canners, the Hillimans, etc. — Abigail is certainly my favorite. She's obviously a strong character, one whose feminist principles, intelligence, and grit I could easily appreciate. She's also remarkably conflicted, which adds a further level of realism to the story.
What genre is this?
This book definitely falls into "Political Thriller," but at the same time I don't feel quite comfortable putting it and all of John Grisham's novels into the same category. Perhaps it's because Carter's novel deals with people who actually lived, as well as genuinely historical events (albeit with a shuffled timeline).
Of course there's the murder mystery aspect as well, although it ends up folding perfectly into the political plotline.
Two big flaws
Carter is a law professor at Yale, and on several occasions I think his enthusiasm on the subject trumps chances to forward the plot. I did some skimming during the chapters about the trial, and found the excessive legalese distracting.
Secondly, the ending is a perfect example of one of my bookish pet peeves: inconclusive endings. Carter leaves so many loose threads that at first I thought he was intending to write a sequel; but I can't find any evidence that that's the case. It wouldn't have taken much for him to make the ending much more satisfying — it feels like laziness on his part.
Well done, but…
In the end I prefer my history accurate rather than speculative, and in some ways I find it disrespectful to save Lincoln from Booth only to put him through the indignity of impeachment.
If detailed political machinations and history are your thing, check out The Impeachment of Abraham Lincoln; if you want to learn about the real man, I recommend Team of Rivals instead.