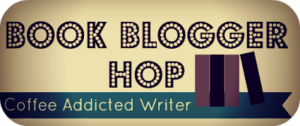 (Book Blogger Hop is hosted by Ramblings of a Coffee Addict. Hop in anytime!)
Question
What got you started as a blogger? Everyone has a story/reason, what's yours?
Answer
I'd love to say that I started my blog as a way to engage with the bookish community, but the truth is that in December 2009 I had just graduated from college, was unemployed, and alone all the time because Best Friend was at his job all day.
I could feel my brain atrophying, and I knew I needed to have some kind of project and goals or risk going (genuinely) insane. So blogging it was.
When I finally got a job interview several months later, my potential employer seemed unreasonably excited and impressed by my blog, so I knew I had to keep it up — anything to give me a better chance of getting a job.
I started out blogging as a means of survival, a way to distract myself from the frustrations that come from applying for dozens of jobs and not getting any calls. But it soon became a way to connect with the community I mentioned in the first paragraph, a way to continue having fun despite being An Adult.
And now it's several years in, and I can't imagine doing anything else.
So what's your Origin Story?