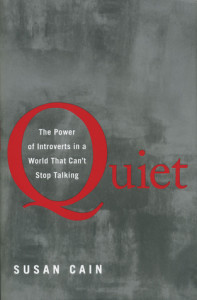 In recent decades there has been a startling shift in American culture. Up through the Victorian era and a little beyond the focus was on character — one's deeds and thoughts mattered in business, love, and life.
As early as the 1910s, however, the tide began to turn away from character and toward personality — the idea that gregariousness and love of social situations was a person's main determiner of success.
But the so-called "Extrovert Ideal" leaves at least half of the population—the introverts—out in the cold. Businesses want to hire extroverts because they make better leaders…right?
Well, not exactly. In Quiet: The Power of Introverts in a World That Can't Stop Talking, author Susan Cain makes a case for introverts' being just as capable of success as their louder brethren. Introverts may be quiet, but they are certainly powerful.
A little of everything
Susan's Cain's book is a wonderful mix of science, personal stories, and practical tips for helping introverts thrive in a world that isn't always easy for them. There's so much going on in this book that reviewing it is difficult — but here's the stuff that's got me thinking the most.
Introverts & business
Business has changed significantly in the recent past. Many employees now work in "open plan" offices, spend more time than ever in team brainstorming meetings, and less time than ever working alone. Being an introvert is seen as a negative, a stumbling block to business success. Quiet people can be seen as distant, cold, and/or lacking in "personality."
But Cain writes extensively about Apple's Stephen Wozniak, the poster child for introversion, who spent the greater part of his time crafting the world's first personal computer alone — working at his office before everyone arrived and staying long after.
It's pretty well-documented (scientifically and anecdotally) that creative people tend to be introverts. And as Cain says:
…introverts prefer to work independently, and solitude can be a catalyst to innovation.
There's room for all kinds of people in the business world. Introverts aren't less hardworking or less interested in being part of a team greater than themselves — they just work differently than their extroverted counterparts. And both they and their bosses need to realize that.
Introverts & education
As you might have noticed, we start teaching the Extrovert Ideal early in life. The focus of education has rapidly shifted from individual work and achievement to group projects, group discussions, working in groups, etc. Children who have just a few close friends, are thoughtful and quiet, and want to spend time alone are often the subject of parent-teacher conferences; they're often encouraged to "overcome" their nature and "cure" themselves of their quietness or shyness.
I've experienced this issue firsthand, although I was fortunate to attend private schools where introversion didn't carry quite the same stigma. All the same, though, I worked in groups far more often than I wanted to, often unnecessarily. Elementary and middle school were fairly miserable experiences, and high school would have been more of the same were I not in Advanced Placement classes in which individual work was much more the norm.
This section of the book was frustrating—it brought forward even more evidence to support my lack of belief in the public school system—but also helpful because Cain includes a bunch of great tips for teachers and parents of introverted children on making the classroom environment and school experience more enjoyable.
Introverts & faking extroversion
Cain does a wonderful job of letting the reader know that introversion can be a powerful characteristic, but is also right when she says that sometimes it's important for introverts to take a page from the extrovert book:
…introverts are capable of acting like extroverts for the sake of work they consider important, people they love, or anything they value highly.
For example, an introverted professor who is passionate about her subject and her students can seem extroverted while lecturing; a quiet businessman may be willing to make small talk with strangers at a house party his wife is hosting.
The trick is not staying in extrovert mode all the time. That professor needs to remember to schedule quiet office hours for herself; the businessman needs to discuss with his wife the importance of their guests' leaving at an appropriate hour so that he can unwind at the end of the evening.
Final thoughts
There's lots, lots more to Susan Cain's Quiet; but true to my introvert nature, I'm enjoying mulling it over internally more than writing about it for the world to see. Chances are good that you're an introvert as well — and even if you're not, you know more of them than you think you do. I highly recommend Cain's book; read it, discuss it, take its tips to heart.
Long live introverts!