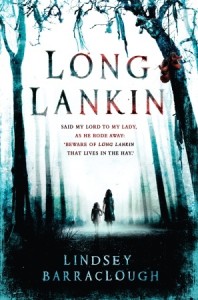 When Cora and her little sister Mimi are sent to visit their Aunt Ida in the isolated village of Bryers Guerdon, their welcome is less than enthusiastic. Their aunt tells them not to get comfortable, that she's writing to their father to come pick them up, that "they can't stay here, they mustn't stay here."
While they wait for their father to arrive, Cora and Mimi meet Roger and Peter, siblings from the village. The boys introduce the visitors to the neighborhood and its sites — including All Hallows, a mostly abandoned church and cemetery near where the girls are staying. Aunt Ida forbids them to go near the church, and Mimi in particular seems scared of it. But children will be children.
There is something wrong at All Hallows. An enormous dead tree is covered over with shoes, toys, bits of ribbon — offerings to someone…or something. All four children begin seeing a man with a disfigured face in the churchyard, Cora hears voices and snatches of a terrifying song echoing through her aunt's home, and in the marshes something ancient and evil wakes.
Said my lord to my lady
As he rode away:
'Beware of Long Lankin
That lives in the hay.'
Absolutely chilling
Wow, what a book! Amazing build-up, believable characters, a huge dose of supernatural evil, and one seriously terrifying bad guy.
The juxtaposition of the children doing normal things like playing with toy boats, avoiding chores, and getting into spats over ice cream with the discovery of the story and truth of Long Lankin is stark and terrifying. It really drives home the point that they're just kids, facing down a monster that has killed before and will kill again.
At first I kind of lamented that Long Lankin wasn't set in the American Deep South. It's got so many gothic elements that moving it to Mississippi, Georgia, or Louisiana would serve to make it even more atmospheric and creepy. But on the other hand, having this supernatural terror occurring in the middle of the sunny English countryside makes it pretty freaking scary too. Don't read this book at night, and do expect a heart-pounding ending.
Historical note
This novel is based on "Lamkin," one of the many so-called "Child ballads" collected by Francis James Child. This is actually the second novel of this nature I've come across; Nancy Werlin's Impossible is based on "Scarborough Fair," another Child ballad (I talk more about that balled in the review).
Child compiled these ballads in the late 19th century, but the songs themselves are much, much older. "Scarborough Fair," for example, is based on "The Elfin Knight," the first versions of which appeared in Europe sometime between 1600 and 1650; certain lines from "Lamkin" reference the Black Plague, which puts its creation even earlier, around the late 1400s or early 1500s.
I love that contemporary authors are bringing these ancient ideas into modern times, exposing thousands of readers to history that they didn't even know existed (I certainly didn't). Old stories are often the best, and it's exciting to see them coming back again. Here's to more like Long Lankin!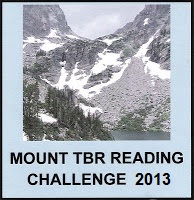 (I read this book as part of The Mount TBR Challenge. Here's to a shorter list!)